Coming together: The world of advertising converged in Kerala to open doors to a new age in marketing
What is a brand's virtue? Its responsibility to consumers, staff, competitors and the environment? This is what advertising stakeholders from across the world sought to answer at the 44th International Advertising Association Conference which was held for the first time in India.
The summit's theme of Brand Dharma, which is a Sanskrit phrase that holds a wide import of meaning, from a brand's virtue, nobility, duty, responsibility or goodness, remained dominant throughout the event.
Brand Dharma
"Great brands serve a noble, meaningful and endearing purpose, rooted in human needs," said Scott Bedbury, CEO of Brandstream Inc. at the IAA conference. This outlook on what brands bring forth from their consumers is a recurring ideal in the evolving advertising world— how to engage with consumers about more than products and services and how to draw emotional experiences from their purchases.
Brand for Good
Gillette's 'The Best a Man Can Be', Coca-Cola's 'A Coke is a Coke' and Ariel India's 'Share the Load' campaigns all have one thing in common: trying to change the way the world thinks. As advertising strategies evolve, it has become evident that brands are realizing that they have more responsibility to effect the necessary change in society.
During the second day of the IAA conference, Paul Polman, the president of the ICC made a heavy statement, "We have to move from being Corporate Social Responsibility to Socially Responsible Corporations."
With the world facing issues of environmental degradation, toxic corporate practices and the age of the Me Too movement, brands can no longer stay silent and offer simple corporate social responsibility gimmicks.
Star Power at the IAA Congress
Bollywood legend, Amitabh Bachchan, delved in what a brand's purpose (or Dharm) meant to him. As the face and voice of nearly 26 brands in India, Bachchan recognized the significance of owning a large platform and how being a brand with a human face would directly impact consumers.
Perhaps the most delightful of the event's many surprises was the attendance of renowned Indian Spiritual leader, Sri Sri Ravi Shankar. The Ambassador of Peace invited participants to engage in a short meditation session which left them relaxed and ready to receive his own light-hearted take on what Brand Dharma is.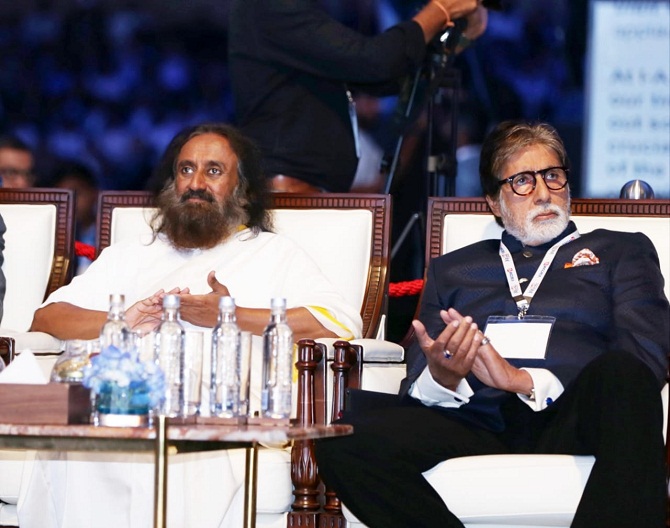 Brand Kerala
Known as the Queen of the Arabian Sea, Kochi is a historically vibrant spice-trading port city with many important monuments. This financial, commercial and industrial capital of Kerala was chosen to host this year's IAA conference because it is "truly the only international convention centre in India," according to IAA's Ramesh Narayan.
The success of the 2019 IAA Conference directs all attention to Kerala. A state with such rich history, culture and hospitality can now work up to its potential and explore how to further push it globally.
"The biggest strength of Brand Kerala is that it shows remarkable openness, a willingness to make people feel welcome," said Shashi Tharoor, a diplomat and parliamentarian.
What's Coming Next?
Given the successful turnout and the overall impressive execution of this year's event, hopes are high that the advertising year ahead will be filled with daring, innovative ideas backed by lessons learned during the conference.
How big and how high can brands go with the theme of Brand Dharma? What genius concepts will be birthed from the creativity and insights that were shared throughout the summit? There is no doubt of the exciting times ahead in the world of marketing.